Many people complain about piracy on software. A lot of mobile developers complain about piracy on Android. I was never too worried myself, this is why.
It is true, piracy exists. As a matter of fact, when we launched Chalk Ball at The Pill Tree, it got cracked in a couple of weeks. We were checking for blog reviews at a time and we found it, so it was even easy to find.
Cracking an Android app is not very complicated, but it is not trivial either. If someone takes the effort to do it, it means you are already in the way to succeed. Having your apps cracked is something to be proud of. So if it happens to you, don't get angry, be proud of your work.
The cracked version was almost complete, just facebook integration was broken. There you have a tip: Since the signature can not be recreated, If you want your app to be really hard to crack, use facebook single sign in to login into your app.
Now think about the effort the user has to make to install an app from somewhere that is not Android Market.
First you have to seek and check an option labeled "Unknown Sources". Many users will not do that, simply because is scary, and it is true, you are installing apps from untrusted sources anyway, if they cracked a game they can put a trojan inside it as well, right?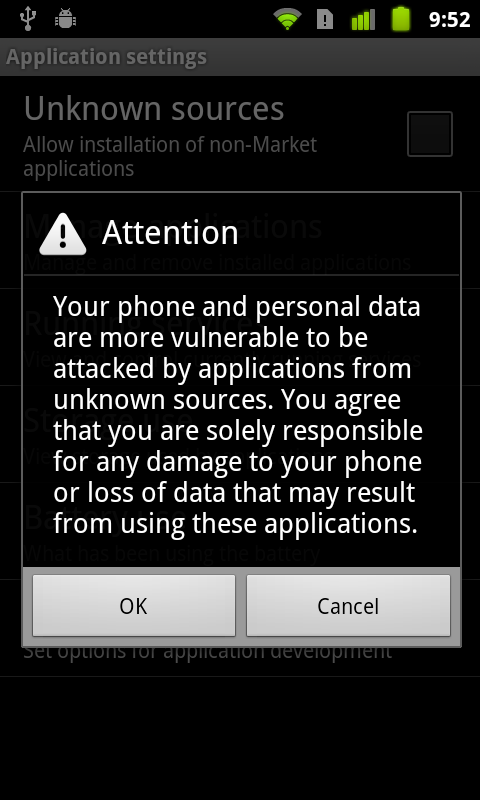 Secondly, downloading it and installing from your Android device is usually not trivial, you may need to download it in your computer, copy it to the sdcard, and then open a file browser to install it. Not complicated, but long and boring.
It is all about the cost of opportunity. If someone is about to install an application from an unknown distributor on the internet -having a free version that is enough for a few hours of play- and the process is going to take you more time than using the official channel, to save scarcely 2$, then is not a lost sale. This person was not going to buy it anyway.
Given that the problem with mobile games is mainly the visibility, each install -even if it is from a piracy source- is going to help you. That person is going to show the app to other people, and since there was an extra effort required, he is more likely to show it than those who just downloaded the free version. In the end, it is some sort of advertising.
These are my reasons to state that it is not a lost sale, and also that it is some sort of advertising. However, you may not be convinced by my arguments, then I'll tell you about the ultimate tool to battle piracy on Android. Ready?
It is called the GetJar Gold program. They give paid applications for free, and you know what? They pay you per download. Sounds crazy, I know, but it works. They are a well known source and they have the latest updates since they work with the developers.
Once your app is part of GetJar Gold, piracy is meaningless. You just need to install their App Store and from there on, you just download the gold apps for free, almost as easily as from Android Market.
Using GetJar has a higher opportunity cost for a user than using the market, but less than downloading an apk from the Internet. So still, many people will get your app from Android Market. You are offering the people that is up to make an extra effort to get the app for free a legal alternative to piracy.
Everyone wins, piracy loses.